Have questions?
Contact AbuLLard:
abullard@cattleogos.com
Welcome to the inaugural issue of "Notes from AbuLLard"
Who has time to read all the newsletters and solicitations we get these days. AbuLLard certainly doesn't. Nor does he have time to write them. So instead of a complex newsletter, our spokescow will send out periodic "Notes" that give you just one thing to think about, and also a list of events and products that we think you might find interesting.
The Brand Touch Pyramid: Who has the most impact on YOUR brand?
Want to learn more about this?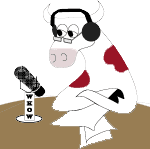 Abby will do a
FREE half hour teleseminar on his model of
"The Brand Touch Pyramid"
 
2 PM (EDT)
Thursday, June 7
Dial-in Number:
(605) 990-0550
Access Code:
1034818
When I give presentations, I always stress that developing a strong, positive brand depends on building awareness of your brand values throughout your organization. Why is this so important?

Well, think about who in an organization has the most contact with its customers. Is it the CEO? ... rarely. Unless it's a very small company, the CEO may be visible in the media but doesn't have that much one-on-one contact with customers. Who does? Ask yourself:
Who talks to your customers most frequently?
Who is on-site with your customers?
Who answers your phone?
The people who touch (interact with) the customer most often are usually the ones in the bottom of the organizational hierarchy. It's the people who deliver packages and install products. The ones who show up when there's a problem. The ones who greet (or don't) customers in a retail establishment. Your sales and customer service people on the telephone. The receptionist in your office (such people do still exist!). They are your "front line" ...  They are the people who create the personal experience that determines your brand.
Here's one of my favorite examples of this principle: UPS. If you've heard one of my presentations, you know who Donna English is. She's the UPS driver in my neighborhood. She's the reason I love UPS. The latest example of why:
My cat is diabetic. I order his supplies from a pharmacy that sends them to the house via UPS. One morning I returned home to find a note that UPS had tried to deliver. Three hours later, the doorbell rang and it was Donna. She said she had noticed the package was from a pharmacy and thought it was important that I get it that day!
Unfortunately not all UPS drivers are as dedicated as Donna. The challenge for UPS (and any company) is to clone her behavior in all their delivery people ... and any other employee who has frequent contact with customers.
Events
One of the biggest mistakes that start up and venture companies make is to ignore the impact of branding!
 ...David Freshman, Delaware Early Stage Ventures at the Mid-Atlantic Diamond Venture Conference, February 2007
Greater Philadelphia Senior Executive Group Professional Services Forum: Things You Need to Know to Get a Consulting Business Off the Ground. The program will consist of three concurrent tracks covering everything from Setting Up A Business Structure to What To Expect Three Years In.

June 13, 4 Pm to 7 PM,
Penn State Great Valley Campus, Malvern, PA
Click here for more information.

AbuLLard will be on a panel discussing the importance of putting together a clear brand and marketing program.
Products
Branding for Your Business Success: An Interview with Manny Nowak
An in-depth interview of our CEO, Dr. Jean Wilcox by Manny Nowak, founder of the Entrepreneur Toolbox on CD. You will learn what every successful entrepreneur needs in order to take his/her business to the next level through smart branding practices.
$59.00     [Add to Cart]      [View Cart]